Every business needs to market their products and services
to target customers. Small businesses are no exception. They also need to make
potential customers aware of their products and services. This has to be done
by their marketing team.
But often, small businesses may not even have a marketing team due to budget constraints. As a small business owner working on a strict budget, you may often find it challenging to get people to notice your products and services.
But so do your competitors – if they are also small businesses. This is where you can take this challenge and turn it into an opportunity to best your competition, by innovating a low budget marketing strategy.
Table of content
1. Leverage the ever changing landscape of online marketing
2. Online marketing strategy small businesses with small budgets
2.1 Join relevant online communities, newsletters
2.2 Strict budget allocation
2.3 Time allocation
2.4 Track and analyze
3. An experiment checklist to get you started
Leverage the ever changing landscape of online marketing
The share of online marketing in the overall marketing pie is increasing day by day, as hundreds of thousands of new people are joining the internet every day.
If you keep your eyes and ears open, you can be sure to regularly
come across new and innovative marketing ways. Many of these new marketing
channels are less crowded and hence much cheaper – the best bet for a marketer
strapped for cash.
For example – think of the Youtubers who got started in the early days, when setting up and running Youtube channels wasn't commonly heard of. Today, those Youtubers are followed by millions of people – giving them instant and free access to millions of eyeballs.
Surely, not all of the new websites that you discover are going to turn into Youtube in next 5 years. But at least some of them will come quite close.
So your game plan should be to experiment with at least a
part of your marketing budget.
Online marketing strategy small businesses with small budgets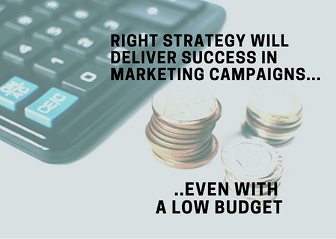 Now that it is clear, that you should start experimenting with new online channels and technologies, you should build a marketing strategy around this approach.
Since you already have a limited marketing budget to start
with, it doesn't make sense to spend it all on some unproven, new, flashy
website. Just in case it doesn't work out well, you wouldn't have spent all
your marketing dollars on a losing bet.
Your online marketing strategy should instead focus on discovering new marketing channels and finding out exactly how much value they can add to your specific business. You can discover this only after some experimentation.
So here are some pointers to help you develop a strategy
when you have a limited marketing budget.
Join relevant online communities, newsletters
If you want to experiment with a new technology and new marketing tools, first you will need to discover those things while they are still quite new. You can't do it all by yourself. If you are already running a business, you probably don't have time to scan the internet for cutting edge marketing stuff.
The most efficient way to discover new stuff is by joining a community. You can connect with other marketers, learn from their experience and share your learning with them.
Whenever like minded people combine their efforts for a common goal, everyone benefits without having to invest too much time and money.
There are several types of online communities that you can
join – forums, facebook pages, communities around open source tools (like
wordpress, for example). These are rich sources of knowledge, best places for a
beginner to start learning new tools.
You can also subscribe to newsletters from some of the best minds in online marketing. For example, Neil Patel is a veteran in online marketer, with experience of building multiple online ventures. His newsletter can bring many useful tips to your mailbox free of cost.
You can also find other influencers, marketers from your
specific domain and try to learn from them.
Strict budget allocation
If you are already on a tight marketing budget, you want to
spend each one of your marketing dollars wisely. That calls for allocation of
monthly marketing budget and strictly sticking to it.
For example, you can decide for an 80-20 split of your marketing budget. 20% of all your marketing dollars should then go to experimental marketing. Remaining 80% will go to your traditional channels which bring proven results.
When you find any new useful channels, put them in the experimental 20% bracket. Observe them for a few weeks. If you get encouraging results, move this new channel to your main bracket of 80%. BUT keep running experiments on other new channels with 20% of your budget.
Time allocation
If you are allocating your limited resources to a cause, you
should also do your best to ensure those resources are properly utilized.
So just allocating 20% of your marketing budget is not enough. You should also allocate some of your (or your lead marketer's) time to the experimental marketing.
If you allocate a few hours per week for this, you will ensure that your 20% marketing spend it being correctly utilized and not wasted. You will also ensure the some potentially golden new channels don't slip through your fingers, simply because you were too busy to pay attention.
Track and analyze
Like any other experiment, your marketing experiments also need to be run with a scientific approach. You can draw any conclusion from an experiment, only after proper tracking and analysis of the results.
You can use numerous online tools to track different kinds of customer behavior. You can then use that tracking data to interpret overall response to your experiments.
For example, you can use tools like –
An experiment checklist to get you started –
By now, if you have decided to start exploring alternative
marketing channels, congratulations! You have already started on a positive
path.
We want to further help you to take your first few steps. Here is a checklist of some commonly used online marketing tools. They are not very expensive. They are very popular and used by millions of small businesses.
Content marketing with social media and SEO (blogs)
More content marketing – images, audio & video
Paid ads – Google, Facebook, LinkedIn (for B2B), Youtube
Influencers – you see them every day on Facebook, Instagram, Twitter, Youtube
Other niche channels – like Quora, Reddit, Craigslist etc.
We are sure that some of them will be very useful for you as
well. Which ones will be the most useful for you, depends on what kind of
business you are running. It also depends on what are your strengths as a
marketer.
There is only one way to find out which ones are the best
for your business.
Step1 – Write down your own online marketing strategy
Step2 – Write down your budget and time allocation. Commit
to stick to it.
Step3 – Pick your favorite tools to track users, visitors
Step4 – Start running your small experiments.